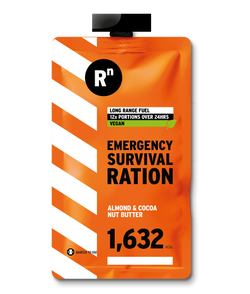 LONG RANGE FUEL | Emergency Survival Ration
Developed based on real world experience of the nutrition required in emergency and survival situations. These packs have been designed to meet or exceed current standards and are super lightweight, highly energy dense, resealable and reusable. 
This delicious chocolate nut butter is ideal for challenging conditions, when access to food is compromised and sustaining life is critical but is a perfect addition to any adventure as a nutrient dense energy source on the move or the breakfast table as a healthier alternative to chocolate spread. Each waterproof, high-visibility pouch contains 1,632 calories for when you need them most.
To date, most products used as survival rations have basically been dry bars of white flour, sugar, and palm oil. We set out to improve on these by creating a lighter, more energy dense, functional and critically more robust, reliable solution that actually works in austere environments. 
Our Emergency Survival Ration (ESR) is part of a system including Emergency Drinking Water and a High Energy ESR Bar series. These products have been tested and proven in a wide variety of SERE, SMERAS, Disaster Response scenarios and are particularly suitable for maritime and sub surface use.
VEGAN, GLUTEN FREE, DAIRY FREE
VEGAN, GLUTEN-FREE.
New Long Range Fuel makes a great dip at your desk, spread on rice cakes or toast, ingredient in baking, or snack straight from the pouch. 
Use at any time of day as a snack. We often use a pouch if we aren't able to grab a proper meal when we're on the move. 
Store in a cool (12C-20C), dry place, Once opened, consume within 3 months.
Before use, invert and knead the pack to mix the contents well. This helps with the natural oil separation that happens with nut butters. 
Consume one mouthful at a time. At first, consuming nut butters on the move can be a bit overwhelming - don't panic - pause and allow the saliva in your mouth to start to loosen up the paste and swallow gently. You might want to try small mouthfuls first.
Wash down with fluids if required. 
Once you have finished your pouch of Long Range Fuel, check with your local authority on how to recycle locally first, or use our free Terracycle returns envelope and we will recycle it for you.